Corporate Income Tax Subjects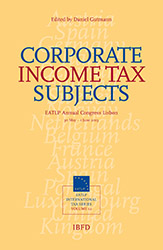 How are corporate taxpayers defined? This book provides a comparative survey of legislations in Europe and the United States.
Why this book?
Tax harmonization or coordination of corporate taxation in the European Union is usually considered from two complementary points of view: tax base and tax rate. These two perspectives structure the debate on whether EU Member States, and more broadly states belonging to the same economic area, should harmonize or coordinate their policies on tax matters.
However, little attention has been paid so far to a more basic question which is at the core of tax theory: who are corporate taxpayers? Are they defined in the same way throughout Europe?
Comparative law shows that the conditions that must be met in order to be subject to corporate income tax are very different from one country to another. The way tax systems define foreign entities that fall under their corporate income tax may also vary significantly, which may in practice give rise to interesting tax planning opportunities.
Against this background, the 2013 EATLP Congress devoted to corporate income tax subjects was designed to enhance the main similarities and differences that exist between many countries (European countries and the United States). It is the first time that such joint research has been conducted on an international scale on this fundamental topic and it has given rise to an ambitious publication.
This book therefore provides a basis for tax policy decisions at a national and European level. It also constitutes a starting point for academic reflection on a core issue affecting the structure of corporate income taxation.
Downloads
Sample excerpt, including table of contents
Contributor(s)
José Almeida Fernandes, Hans Arts, Funda Basaran Yavaslar, Marc Bourgeois, Nuno de Oliveira Garcia, Francisco de Sousa da Câmara, Luca Di Nunzio, Éva Erdos, Benn Folkvord, Theodore Fortsakis, Mario Grandinetti, Daniel Gutmann, Søren Friis Hansen, Pierre-Marie Glauser, Jacob Graff Nielsen, Johannes Heinrich, Raimo Immonen, Domingo Jiménez-Valladolid de L'Hotellerie-Fallois, Polina Kouraleva-Cazals, Máté Lakatos, Hanna Litwinczuk, Giuseppe Marino, Ruben Martini, Petra Mihályi, Marco Muratore, Stefan Olsson, Henry Ordower, Jaakko Ossa, Xavier Pace, Bart Peeters, Ekkehart Reimer, Pietro Selicato, Claudia Slawitsch, John Snape, Alain Steichen, Karolina Tetłak, Andreas Tsourouflis, Jan van de Streek, Félix Alberto Vega Borrego, Hein Vermeulen, Danil V. Vinnitskiy.