Interviews with students of the Advanced Master's (LLM) Programme in International Tax Law
February 19, 2021
7 minute read
Update: As per the start of the academic year 2022/23, the International Bureau of Fiscal Documentation (IBFD) and the University of Amsterdam (UvA) will discontinue their cooperation on the Advanced Master's in International Tax Law. The University of Amsterdam will then assume sole responsibility for the LLM programme and intends to continue to offer it under the accreditation granted under Dutch higher education regulations.
We are very proud to have established a world-class programme together. The University of Amsterdam and IBFD will otherwise continue their long-standing relationship outside the framework of the Advanced Master, both at the institutional level and through individual staff.
University of Amsterdam
International Bureau of Fiscal Documentation
The University of Amsterdam and IBFD have combined their expert knowledge to create a unique Advanced Master's programme in International Tax Law. The programme teaches the principles and practical issues of international tax law and how those principles are used in both private and industry practice.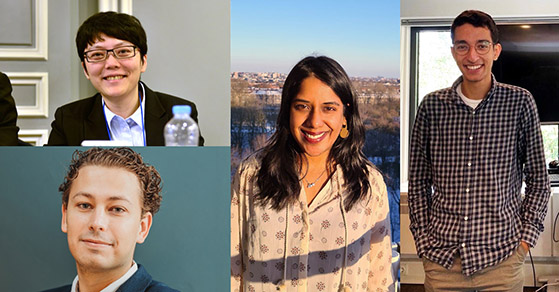 This year has been a new experience for everyone, as due to the COVID-19 pandemic, the academic year 2020/2021 is being offered completely online.
We talked with Andreas, Drishti, Marwan, and Wen-Chin, who are currently following the LLM programme for the current academic year, and asked them to share their experience so far. 
Andreas: The programme in partnership with the IBFD has an established reputation and it is a privilege to be granted this opportunity to research and study here. The alumni of this course always referred to the high amount of personal interaction and group work and this has also been my experience so far, which I rate highly. 
Drishti: Despite the uncertainties with the pandemic, the lecturers and coordinators had already put in place a clear structure before even starting university, which was really reassuring as I knew exactly what to expect. We even had meetings with them every two months before the start of the courses, which for me shows their true commitment to the programme.
Marwan: Even though the programme is taught online, the programme has not compromised in terms of content and teaching. It is not always easy to study online but we are not left all alone. The teaching assistants, the lecturers and the admission's office are here to support us during these demanding new times.
Wen-Chin: This is one of the top LL.M. programmes in the world. Moreover, its course design, particularly in the case of tax treaties, is very attractive. On top of solid academic training, the Adv. LL.M. also includes a one-month tax treaty negotiation course, allowing students to learn through action.