Advanced Master's in International Tax Law (LLM): Graduation Ceremony, Distinguished Lecture and Award Ceremony 2021
September 20, 2021
8 minute read
On 26 August, we had a double celebration at our Advanced Master. On the one hand, we commemorated the graduation of last year's students, while on the other hand, we welcomed those who newly joined. This will already be the seventh edition of our Advanced LLM in International Tax Law, jointly offered by the IBFD and the University of Amsterdam.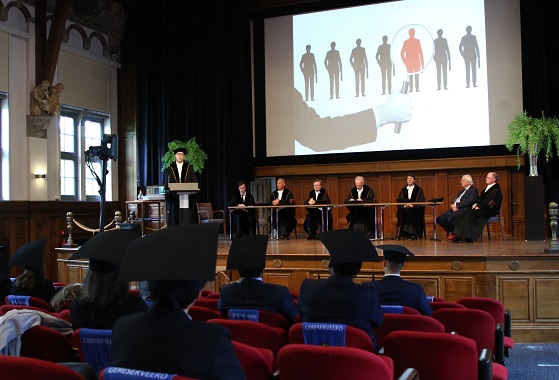 The day began with the graduation ceremony of the 2020-2021 graduates, taking place at the University of Amsterdam, with the LLM professors properly dressed in their gowns. The Programme Director, Sjoerd Douma, conferred the diplomas to the students, some of them accompanied by their family and friends.
In a joyful atmosphere, each student's thesis supervisor shared some insights about the student's journey through the academic year. Also, the students took the opportunity to thank whoever contributed to their success and shared their experiences and ups and downs during the past year.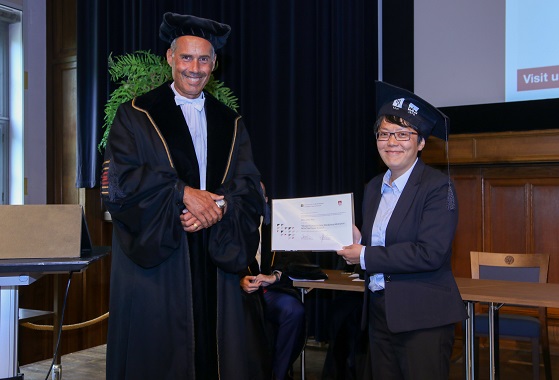 The afternoon session took place in a more glamorous venue, Koninklijk Instituut voor de Tropen. It started with an introduction by Sjoerd Douma followed by the traditional distinguished lecture, delivered by the pro-Tempore IBFD Professor in Residence, Yariv Brauner, from the University of Florida. This year's lecture was focused on data taxation. Some of the new students were also present in this event, as the distinguished lecture traditionally marks the beginning of the new academic year. The newcomers had the opportunity to meet each other, the professors and the graduates in person and have a taste of the atmosphere of the year to follow.
Immediately after the lecture, we had the delivery of three awards for the graduates of 2020-2021: the ACTL Award for the graduate with the highest average grade, the IBFD Award for the best thesis of 2021 and the IBFD European Taxation Journal Prize.
The awards were followed by a moving speech by Marwan Ahmed on behalf of the whole 2020-2021 class. The official evening ceremony ended with Sjoerd Douma's final remarks, which were followed by some drinks. The day ended with a dinner in honour of the 2020-2021 class at the prestigious Koninklijke Industrieele Groote Club.
For the coming edition of the LLM, the early admission deadline is 1 January 2022, the regular admission deadline for students outside of the European Union and students who wish to apply for a scholarship or housing is 1 April 2022 and for students within the European Union, the deadline is 1 May 2022. You can find all the info on the UvA website.