Global Corporate Tax Handbook 2022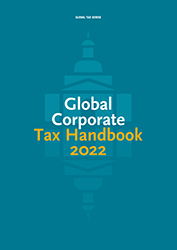 Covering 101 tax jurisdictions worldwide, this book provides a comprehensive overview of the corporate taxation in those countries.
Why this book?
Covering 101 tax jurisdictions worldwide, these books provide the largest, most authoritative survey of tax systems throughout the world. The Global Corporate Tax Handbook and the Global Individual Tax Handbook are designed to be used as a set – buy these two books as a set. The titles complement each other to provide the reader with a complete overview of the tax system in each country.
Similar to the other titles in the Global Tax Series, the country chapters follow a common layout that allows rapid and accurate access to precise information and enables direct comparison between countries. The country chapters have been updated to reflect the laws applicable in 2022.
This book is part of the Global Tax Series
View other titles in the series
Downloads
Sample excerpt, including table of contents
Editor (s)
> Africa: Mamadou Bah, Sabrine Marsit, John Mpoha, Yvette Nakibuule Wakabi, Abdoul Aziz Son
> Asia-Pacific: Karen Lim, Nikita Lingbawan, Mei-June Soo, Nina Umar
> Caribbean: Priscilla Lachman, Sandy van Thol
> Europe: Vasiliki Agianni, Mery Alvarado, Madalina Cotrut, Francesco De Lillo, Filip Krajcuska, Magdalena Olejnicka, Andreas Perdelwitz, Marnix Schellekens
> Middle East: Mamadou Bah, Ridha Hamzaoui, Sabrine Marsit
> Latin America: Vanessa Arruda Ferreira, Maria Bocachica, Diana Calderón Manrique, Gabriela Rodríguez Arguijo
> North America: Wooje Choi, Julie Rogers-Glabush