European Tax Handbook 2022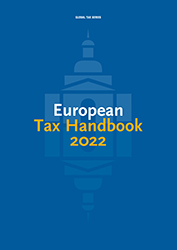 Covering 49 jurisdictions, the European Tax Handbook is the single most authoritative and complete survey of tax systems in Europe.
Why this book?
The 2022 European Tax Handbook includes surveys on 49 countries and jurisdictions. The surveys have been updated to reflect the laws applicable in 2022. A chapter on the European Union (together with the most important tax directives) and descriptions of seven of the most important Swiss cantons are included.
This book is part of the Global Tax Series
View other titles in the series
Downloads
Sample excerpt, including table of contents
Editor(s)
Vasiliki Agianni, Mery Alvarado, Madalina Cotrut, Francesco De Lillo, Filip Krajcuska, Magdalena Olejnicka, Andreas Perdelwitz, Marnix Schellekens