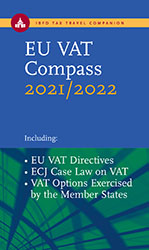 Encompassing the most important features of the EU VAT system, this book is an essential reference for those actively working on or interested in VAT.
Why this book?
Part One presents the consolidated text of the current EU VAT Directive (No. 2006/112), as most recently amended by Directive 2020/2020. It also contains the texts of several other Directives in the field of VAT. The text of Implementing Regulation 282/2011, as most recently amended by Implementing Regulation 2020/1112, is included.
For the interpretation of EU VAT legislation, the case law of the Court of Justice of the European Union (ECJ) is an indispensable element. Part Two provides an overview of both the operative parts of the more than 1,000 ECJ judgments in VAT cases and the pending cases that are expected to lead to judgments in the course of 2021 and 2022.
The book concludes with an overview of the options laid down by the VAT Directive that have been taken up by the individual Member States. This comprehensive analysis covers all EU Member States and the United Kingdom.
Downloads
Sample excerpt, including table of contents
Editor(s)
Fabiola Annacondia is the editor of the International VAT Monitor and the cluster manager for the VAT courses offered by IBFD International Tax Training. She has a postgraduate degree in international tax law from the University of Barcelona and a postgraduate degree in tax law from the University of Argentine Social Museum. She worked as a fiscal auditor (tax inspector) for 11 years with the Argentine tax authorities and teaches indirect taxation at the University of Buenos Aires.
Contributor(s)
Austria: Hannes Gurtner, LeitnerLeitner, Linz
Belgium: Marc Govers, The VAT House, Antwerp
Bulgaria: Lubka Tzenova, Bulgarian University of Finance, Business and Entrepreneurship, Sofia
Croatia: Marko Starčević, CMS Reich-Rohrwig Hainz, Branch office Zagreb
Cyprus: Yiannis Tsangaris, Commissioner, Cyprus Tax Department
Czech Republic: Milan Tomiček, Stanìk, Tomiček & Partners, Prague
Denmark: Claus Bohn Jespersen, KPMG Acor Tax, Copenhagen
Estonia: Karin Neemsalu, Baltic Business Advisory OÜ (Mazars), Tallinn
Finland: Mirka Danielsson, Deloitte, Helsinki
France: Florence Gournay-Noury, Tax Manager, Paris
Germany: Sonja Wiesner, WTS, Munich
Greece: Alex Karopoulos, Zepos & Yannopoulos, Athens
Hungary: Gábor Németh, WTS Klient, Budapest, and Zsolt Szatmari, IBFD, Amsterdam
Ireland: Gabrielle Dillon, Twomey Moran Taxation Advisers, Dublin
Italy: Simonetta La Grutta, Grant Thornton, Milan
Latvia: Larisa Geržova, IBFD, Amsterdam
Lithuania: Robertas Degesys, TGS Baltic, Vilnius
Luxembourg: Erwan Loquet, BDO Luxembourg
Malta: Sarah Cassar Torregiani, Malta
Netherlands: Bert Laman, Mazars, Rotterdam
Poland: Krzysztof Lasiński-Sulecki, Nicolaus Copernicus University, Toruń
Portugal: Isabel Vieira dos Reis, Garrigues, Lisbon
Romania: Ana-Maria Notingher, Tax Advisor, Bucharest
Slovak Republic: Elvíra Ungerová, KPMG, Bratislava
Slovenia: Jerica Dolšak van Rijnsoever, Tax Lawyer, Ljubljana
Spain: Gorka Echevarría Zubeldia, Global VAT Manager, Geneva
Sweden: Tomas Karlsson, Ernst & Young AB, Stockholm
United Kingdom: Robert Killington, Independent VAT Specialist