EU Case Law on Income Tax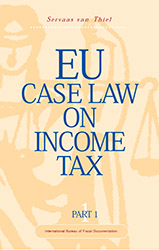 EU Case Law on Income Tax (Part 1) contains a clear and easily accessible evaluation of the income tax decisions of the European Court of Justice (ECJ).
Why this book?
EU Case Law on Income Tax (Part 1) offers readers a succinct overview of the effects of EU law on the traditional ways in which EU Member States have taxed cross-border income flows.
The author discusses how EU law can override the discriminatory tax measures and tax treaty provisions of EU Member States and assists tax practitioners in quickly grasping the EU law aspects of international tax practice.   
Author(s)
Prof. Servaas van Thiel teaches international tax law at the "Programme on International Legal Cooperation" of the Free University of Brussels and works for the European Union. He has presented guest lectures to academic, government and professional audiences in Europe, the United States and Asia, and has worked as an independent consultant for a variety of international organizations.
He has published several books and a wide range of articles on Dutch, EU and international tax law, and was a co-editor of two IBFD's publications.