Essays in honour of the 10th anniversary of the Leiden Adv LLM in International Tax Law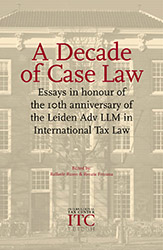 This book is in honour of the 10th Anniversary of the Leiden Adv LLM in International Tax Law.
Why this book?
This book presents and analyses some of the most interesting and debated court decisions of the last decade.
The issues analysed in this book include:
borderline between the definitions of royalties, know-how and services;
the definition of the term "employer" for treaty purposes;
the concept of permanent establishment in the context of a
multinational group;
non-discrimination issues relating to domestic group consolidation;
the taxation of partnerships in cross-border situations;
the concept of place of effective management for treaty purposes;
the ever-debatable notion of "beneficial owner"; and
triangular situations.
Downloads
Sample excerpt, including table of contents
Main Contents
Chapter 1: DEL commercial: conduit arrangements and abuse of tax treaties
Chapter 2: Treaty issues related to the provision of know-how: Comment on a Spanish Supreme Court decision.
Chapter 3: International hiring-out of labour: Identifying and taxing genuine and abusive scenarios.
Chapter 4: Multinational enterprises and permanent establishments: The Philip Morris case.
Chapter 5: Non-discrimination and group consolidation: The Delaware case of the German Bundesfinanzhof and beyond.
Chapter 6: A case on partnerships: The Rouquier et Rivay decision of the Belgian Supreme Court.
Chapter 7: Residence: Central management and control versus place of effective management.
Chapter 8: The Royal Bank of Scotland case: More controversy on the interpretation of the term "beneficial owner".
Chapter 9: Triangular cases and double tax relief: A decision of the Netherlands Supreme Court.
Contributor(s)
Walter Andreoni, Paolo Arginelli, Edward Attard, Andrea Ballancin, Severine Baranger, Juanita Brockdorff, Emidio Cacciapuoti, Bruno Carramaschi, Kathrin Egli, Jose Fernandes, Renata Fontana, Christian Ellul, David Francescucci, Stefano Grilli, Giancarlo Matarazzo, Tiago Neves, Wolfgang Oepen, Andrea Parolini, Antonio Russo, Raffaele Russo, Priscila Silva, Stefano Simontacchi, Alexandra Storckmeijer, Mario Tenore, Erki Uustalu and Emiliano Zanotti.